Clean Family Entertainment

Making Your Family Event
Magical & Memorable!
who is Andy peters?
So just WHO is Andy and WHAT can he do for you?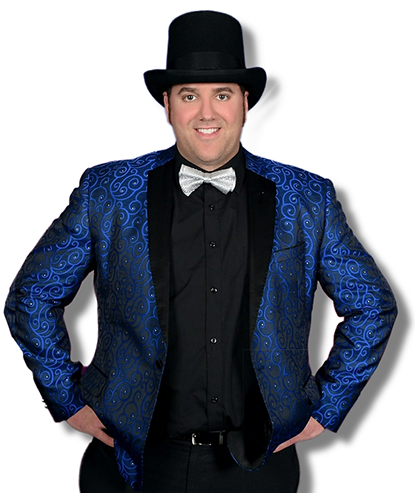 Andy Peters is a professional magician. But you're probably asking yourself, "How on earth can someone do 'magic' for a living?"
Like any other profession, it takes time, skill, and a positive attitude to create the best service and/or product for their customers and THAT'S how Andy has been able to do what he does for the last decade !
When you hire Andy, you will see why companies, high-profile clients, and even those that want to create the most AMAZING and UNFORGETTABLE experience for their child's special day. Now you can make your family party more memorable and full of fun by hiring Andy Peters as your magician.
His ability to connect with his guests is what truly sets him apart! His show is clean and funny.  His humor is rated G.
Whether it's mingling with the adults, or approaching a group of the most hard-to-impress teenagers, you can rest assured that Andy will deliver nothing short of stellar performance and leave your guests talking about your event for years to come!
what are people saying
It's easy to sit here and let Andy tell you how amazing he is and how much fun your event will be with
his virtual magic show. But…why not just let these past clients speak for him?
"We had heard about Andy from a
mutual friend, we were
extremely happy with the results!
From the booking process to his
punctuality to entertaining all of our friends and family, Andy is a TRUE pro! "
NANCY.S
"Andy's Magic performance was incredible!
Andy amazed ALL our guests at our
daughter's sweet sixteen party. DO
NOT miss the chance of seeing him perform live!"
ROBERT M.
FAQ
It is best to fill out the contact form to send a request or send inquiry by email or to give him a call. Andy will reply as quickly as possible. From there we will discuss the needs & requirements of both the client and Andy, and go over the rates. Once we come to an agreement Andy will request a 25% deposit. The balance will be due on the day of the prior to the performance.
The price of Andy's family Magic show begins at $500.
Absolutely. The show material is rated G and is customized for the type of event and audience and can be slightly tweaked up with humorous innuendo when requested by the client.
Yes, and is one of the top Zoom Magicians in the world. He has done virtual shows all over the US and abroad and is available to perform in any time zone .
Bookings can be taken up to 6 months in advance of the event. Check availability as soon as you have a date in mind, as many key dates tend to get booked in advance. All bookings are made on a first-come-first-served basis.
Yes, Andy is a Distinguished Toastmaster, and a lot of his clients hire him to be the MC or host at their party.
interested in hiring Andy?
if you're interested in having Andy amaze your guests, please take a few moments to fill out the form below. Someone will be in touch with you right away! For personal response from Andy, please allow up to 24 hours.